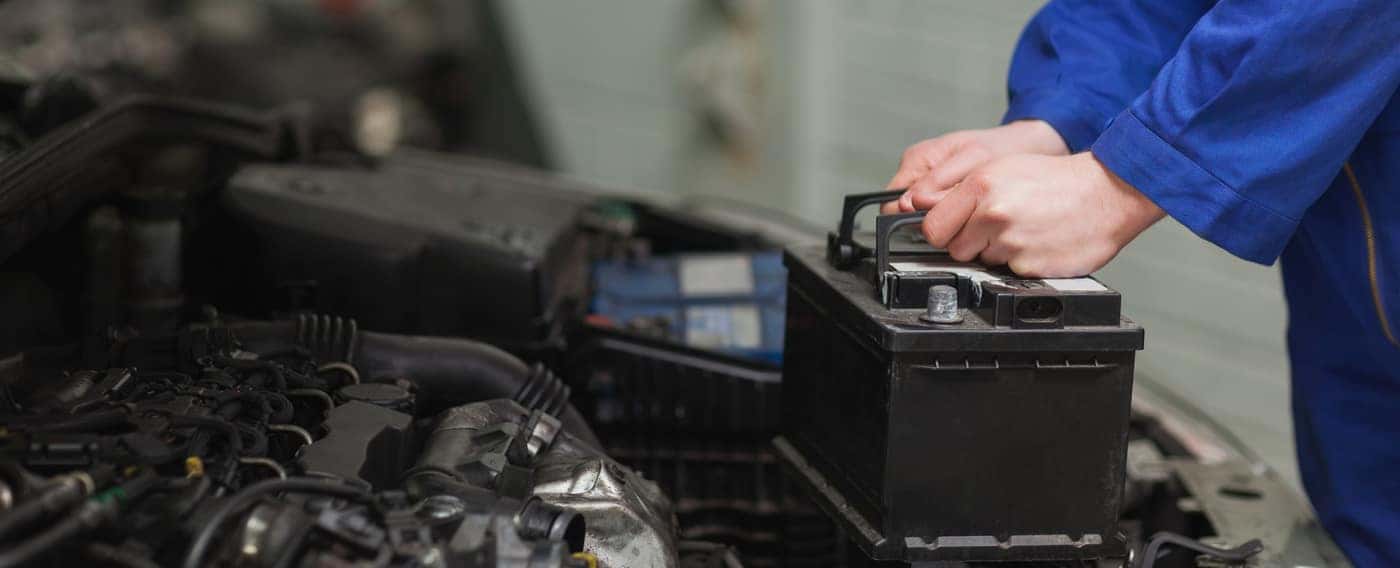 Your car's battery is essential for starting up your ride, keeping it running smoothly, and powering electrical components. With so many important jobs to do, no battery can be expected to last forever. Eventually, removing a car battery is an inevitable part of car maintenance. If you have a passion for DIY, you can learn how to take on this job in your own Gainesville garage. However, proper precautions must be taken to ensure the job is done safely and efficiently. Read on below to learn how to remove a car battery with our service experts!
Removing a Car Battery: Preparation
Before you go about removing your car battery, you will want to make sure that you have gathered the necessary safety gear. Car batteries can deliver a deadly shock, so insulated work gloves are a must. Additionally, you will want to grab a pair of safety glasses to protect your eyes from corrosive agents. Before you get started, make sure to turn your car off, as a running engine can produce a spark and ignite flammable agents. You will also want to:
Gather some zip ties or other restraints to keep the battery cables in their place. If they touch, it can cause a spark and thus a fire hazard.
Cover the end of the positive cable with a cloth once it is removed to prevent metal-to-metal contact.
Remove any jewelry, such as necklaces, watches, or bracelets to prevent the risk of shock.
Make sure you are working in your Orange Park driveway or a well-ventilated garage to avoid exposure to harmful gases.
If you discover that your terminal is fused, you can use a special battery cable removal tool to get it loose. You will find all the tools and equipment you need when you order parts from us online or shop in our parts department in Jacksonville.
Removing a Car Battery: Removal
Once you have all of your tools and your prep work is complete, you can follow these steps to safely learn how to remove a car battery:
Locate the negative terminal. You should be able to spot a black plastic cover or a minus sign (-) to indicate the correct post.
Grab hold of the bolt head on the negative terminal with either a wrench or pliers.
With the wrench or pliers, remove the nut, then pull the negative cable away and secure it safely from the battery.
Repeat the same procedure for the positive cable, showing great care to prevent the two cables from touching.
If your battery is held in place by a securing bracket, use your pliers or wrench to remove the bolts.
Lift the battery straight out while bracing for the lift. A battery can weigh up to 40 pounds, so be prepared for that weight.
How Many Volts is a Car Battery?
If you are trying to test or remove your car battery, you may be wondering how many volts it has. Generally, a fully charged car battery should measure at 12.6 volts or higher. Once the engine is running, this number should jump up to 13.7 to 14.7 volts.
Testing your battery and electrical system a couple of times each year is easy when you visit us near St. Augustine. However, you can also follow these steps for an at-home test:
Fire up your engine and turn on your headlights.
If the lights are unusually dim, they may be running off of battery power.
If the lights get brighter as you rev the engine, the alternator may be producing some current, but not enough to keep the battery charged when idle.
If your lights seem normal, even when you rev the engine, your battery is most likely working just fine!
Make sure to ask our service technicians to conduct a battery check the next time you visit us for automotive service!
Learn More About Car Care With Honda of the Avenues
If you prefer to kick back and let the professionals handle your maintenance tasks, schedule service with us today. We offer competitive prices every day and provide a bevy of service coupons for added savings. Contact us today with any auto care questions, we'll be glad to help.