Why is My Car Leaking Water?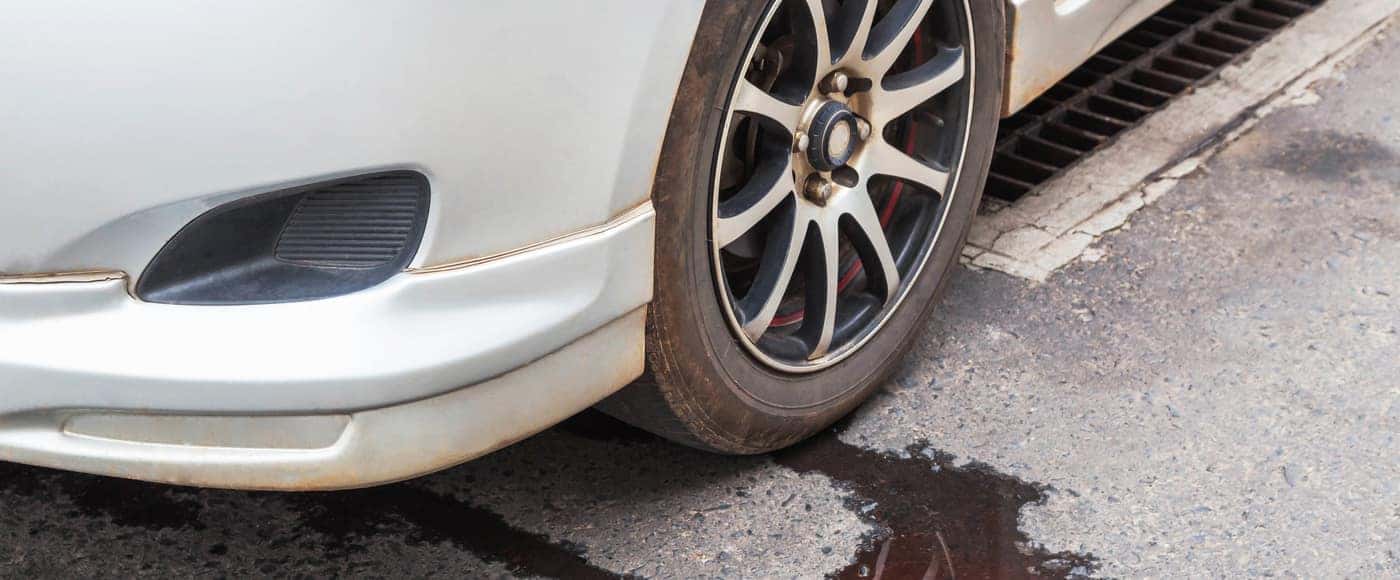 ---
If you notice that your car is leaking water, usually it's nothing too serious. Your car's air conditioning system produces condensation, so it's normal to spot a small puddle of water near the back of the engine compartment. Along with that, water accumulating near the tailpipe is usually condensation from the exhaust system, and that will be cured once your muffler warms up.
However, sometimes, water leaking from under your car may distract you from other fluid leaks. If you're unsure if your car is leaking water or other fluids, our service team is here to help. Follow along for maintenance methods you can use in your own Gainesville driveway. Or, if you prefer, you can schedule an appointment with us to let the pros take a look. Learn more below!
Test for Water Leaking from Under Your Car
Car leaking water? Follow these steps in your own Orange Park garage or driveway to identify where it's coming from:
Place a clean sheet of paper under the source of the leak. If the fluid isn't water, the color will appear on the paper. If you see blue, green, or yellow, most likely it's coolant.
If you find more than a small amount of water coming from your exhaust, you may have a blown gasket. This can cause coolant to be burned along with the fuel. This will be coupled with large water leaks and white smoke pouring from the exhaust pipe.
A coolant leak is usually easy to spot thanks to the unique color. However, you can also check the reservoir to see if you're getting low. If it isn't at a sufficient level, you'll want to bring your vehicle in for an inspection.
The leak may also be caused by a crack in the windshield wiper fluid reservoir. This can result from adding water to your fluid. If the water freezes, it can expand and crack the container. Usually, you'll find this type of leak in a light blue or green near the front tires.
If you believe the leak is being caused by anything other than condensation, visiting our Honda of the Avenues service center is your best option.
What Fluid is Leaking from My Car?
If you notice that the piece of paper you place under your leak turns any color other than clear, the leak is not water. Follow this guide below to get a better understanding of what's causing your leak:
Red – Transmission Fluid or Power Steering Fluid
Orange – Transmission Fluid or Radiator Coolant
Yellow – Radiator Coolant
Green – Antifreeze from Water Pump, Hoses, or Radiator
Blue – Windshield Wiper Fluid
Dark Brown – Brake Fluid or Older Engine Oil
Light Brown – Newer Engine Oil or Gear Lubricant
Pink – Power Steering Fluid or Transmission Fluid
Visit Honda of the Avenues for Service
Now that you know that water leaking from under your car is not usually a major concern, you can have greater peace of mind next time you spot a puddle in your St. Augustine driveway. However, if you're unsure if your car is leaking water or another fluid, contact us today. Our team can quickly diagnose your issues and get you back on the Jacksonville streets in no time. Explore our service coupons before your next visit for added savings!
More from Honda of the Avenues
Gainesville drivers deserve to feel and be safe when driving on local roads. If you find yourself wondering "are minivans safe?" the 2022 Honda Odyssey safety rating will put any of your worries to rest. We are thrilled to inform Orange Park drivers that the 2022 Odyssey was selected by the IIHS (Insurance Institute for Highway…

With a great balance of power and efficiency, style and dependability, the 2022 Honda Civic already has a large Gainesville fan base. But with its 2022 redesign, the Honda Civic sedan configurations have even more to offer! Take a closer look at the variety of the Honda Civic trims. You're sure to find a Honda…

When Gainesville drivers choose a 2022 Honda Civic, design might not be the top priority. Fuel economy and dependability usually come first, but the Honda Civic design is unique and makes for a comfortable interior. Not only that, the Honda Civic dimensions make for a spacious ride, while the Honda Civic cargo space is so…